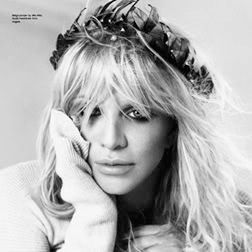 I have found a new LOVE, or should I say a goddess has found me. Over the past few months I have been surprised several times by the lovely
Courtney Love Cobain
. She stopped by my shop,

Red Heart 13

in October and picked up the a
Royal Crest necklace
that was featured in my art show earlier in the month. I thought this was a once in a life time event, a true queen, but she visited again on my birthday Oct 30th, was a present to me! She purchased my
Royal Cranberry Necklace
and a pair of
Royal Crest Earrings
. For the third time, she came last Friday and purchased the
C
inderella's Carriage
necklace
and a rare relic from my collection, the
Lullaby Memento Mori Relic
of the baby Marie Antoinette, which was named after me and included a braided strand of my hair under the glass.

I am overwhelmed by happiness and have read that she is obsessed with etsy, picking up lovely fabrics, jewelry and unique finds for her and friends for holiday gifts. I have n
oticed she is really into Steampunk, Victorian Era and lastly Marie Antoinette. I am so honored for her to come to my shop and support me and other Etsians out there.
Assemblage made from ambrotype frame and casing, gold pin, shells, animal bone, dried roses, human hair locket and victorian child portrait.