Stop on bye
Red Heart 13
today, for our weekly discount for Red Wednesday, if you buy 1 piece of jewelry you get the 2nd half off! 
Over the weekend, I finally got to meet a buddy of mine from etsy named Jess L. Schnabel of

Blood Milk Jewelry

and

Baby Fangs

. My friend

Alison

and I drove up to Philly using my new GPS (note to self don't ever use one in the city, took us to the wrong side of town, if you know what I mean). Jess' house was filled with odd things in apothecary jars and mystery pieces that were once her fathers. She had a wonderful little studio room filled with endless inspiration all within her haunted townhouse that was built in the 1800s. As a gift, she gave me a box of her grandmother's old vintage costume jewelry and another box from her aunt, who ventures auctions; beautiful pieces with rhinestones, lovely pendants and even pieces of fabric embellishments with pearls, I believe to be from a wedding dress. I was just astonished, I couldn't wait to get home and start creating from these timeless pieces that were once worn by a loved one. Several pieces below are new creations from the fabulous gifted costume jewelry. Thank you Jess!


N E W  A R R I V A L S   T H I S   W E E K:
~ 1) Look pretty tied up in this revamped

Cutie Pie Bow necklace

, made with vintage cream pearls, a gold bow with rhinestone cluster and a vintage wooden crackled bead.
~ 2) A glorious burning light from heaven to earth; the

Second Coming

of Christ himself for the final judgement. This necklace is a preview of my new upcoming collection called Black 13™.
~ 3) Vintage silver pendants with encrusted rhinestones are pure

Frosted Enchantment

; beautiful earrings for that special occasion.
~ 4) This

Modern Mourning necklace

reminds me of the Victorian's way of mourning, yet it is a twist on the newer more modern century; this necklace is can be worn day or even during the months after a loved one has past.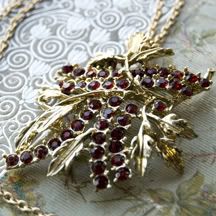 ~ 5) In the Garden of Eden is a paradise of life to an unbelievable existence, a place of temptation and knowledge of the good. This vintage pendant reminds me of the the tree of life and the

Forbidden Fruit

of red seduction.
~ 6) Busy bee dance around this

Pale Honeycomb necklace

; made from a vintage pendant on two strands of gun metal chain.
F O U R   N E W   A R R I V A L S   L A T E R   T O D A Y:
~ Marie Antoinette's Crown necklace
~ Lonely Swallow necklace
~ Trilogy Rhinestone Talisman bracelet