You all might of hear of miss Alison from the silly stories I may have told about work. Well Alison is truly my side kick and also is addicted to etsy. In fact, she has a very shop of her own called
Spool
.

Originally, her shop was going to support her new creative endeaver (back in '07) of sewing. Hence the name,
Spool
. Unfortunately, Alison hadn't sewn since Home Ec back in the day, but for some reason her mind told her that she could just jump right back into it & know what she was doing. Next thing she knew, the needle was jammed (and bent) and Alison had to put that bad boy away to start up an assemblage piece. And a collage, and soon after, beautiful jewelry.

Alison recently has revamped her shop, spending many weekends and even work hours sprucing it up for the upcoming spring. So let us take a look her triumphs: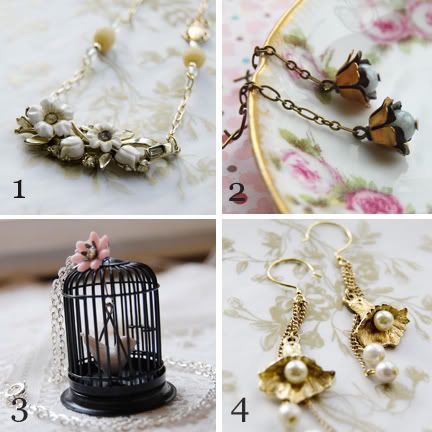 ~ 3) The
Incarceration of Grace
, is a horrible story but a beautiful necklace. She was caught red-feathered trying to lay a couple of plastic eggs at John Bender's farm!
~ 4) These
Budding Lilies
are truly cute, they are like having a garden of your own.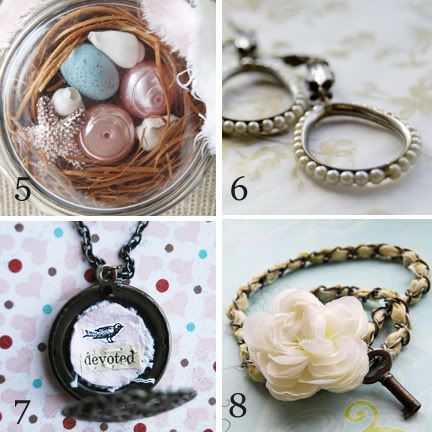 ~ 6) A sad song the lovely
Gweneviere
sings; a song of everlasting devotion to a sailor, away for many months at a time.
~ 8) With this key you hold the
Rites to the Secret Garden
: Beautiful Eden, the smell of a thousand roses, mixed with honeysuckle, lilies and every delight a nose could ever experience.
And here is first hand scoop on a special promotion starting this Friday until Saturday the 14th, if you stop by
Spool
you will get
FREE SHIPPING
on all jewelry. Let's show some love to one of my favorite shops; oh and she has a blog to called:
Bird's Eye View
!